Thinking Outside Traditional ABM: Why Your Target Account List Should Start With Intent
By Tom Mandell, Senior Director of Data Services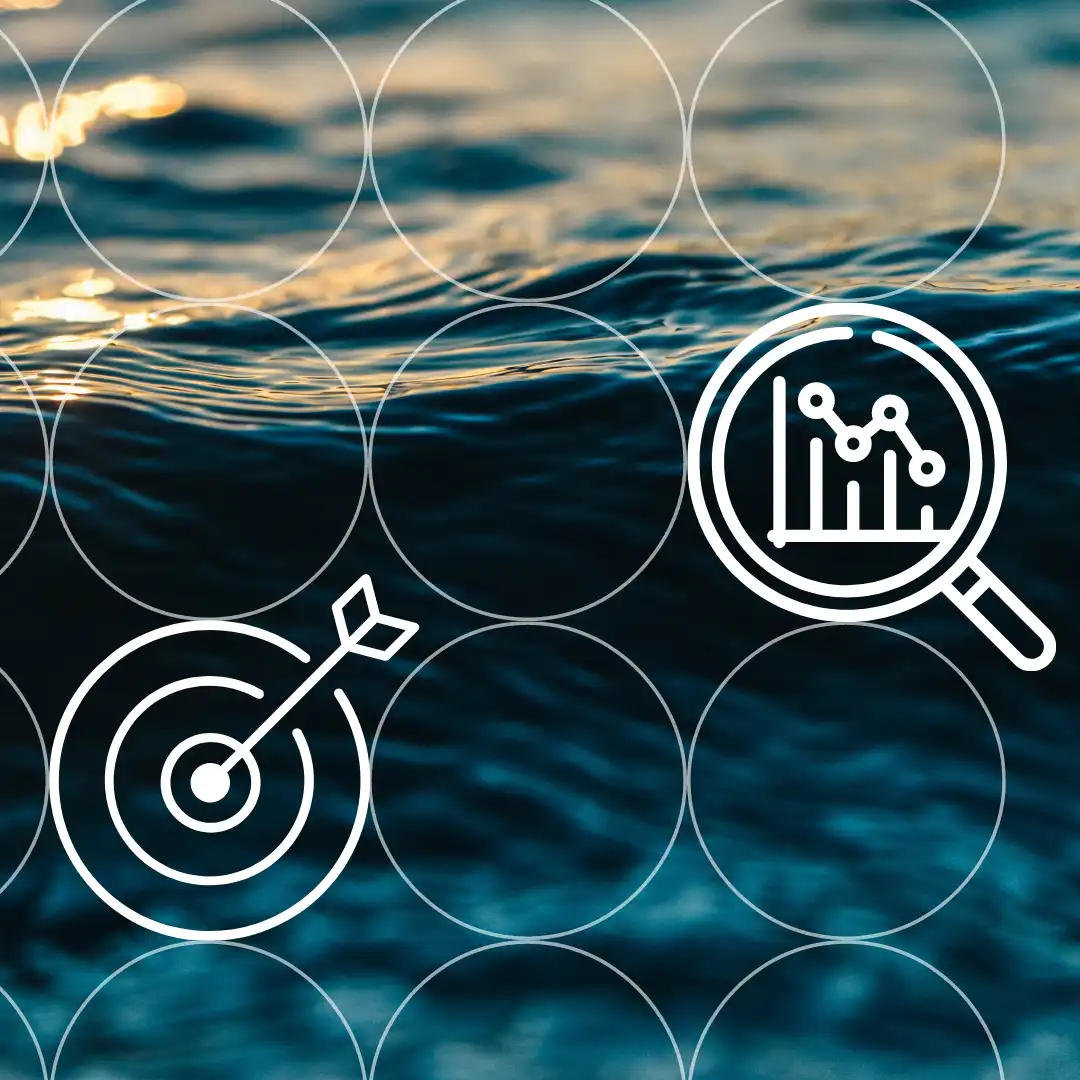 If you're not leveraging intent data to build your target account lists, you're not seeing the forest for the trees. Targeting organizations who actively want to buy from you may seem like an obvious first step, but it's often overlooked in account based marketing. Intent data does just that: it tracks consumption behavior of specific topics, which shows what companies are researching and predicts their purchasing behavior.
When it comes to curating your target account lists, intent data should play a fundamental role so that you don't leave valuable accounts off the table.
Moving from a hyper-targeted account list to an intent-based list provides a much more comprehensive view of your total addressable market. This approach can more than double your list of target accounts, which means double the opportunities to reach in-market accounts who are interested in your solutions now.
The Limitations of Traditional Target Account Lists
Target account lists are typically created from a combination of marketing and sales goals. This often amounts to a product or marketing team choosing targeting criteria based on who the product was initially made for and their matching firmographics. With a traditional approach to ABM, an account makes the list depending on its industry, company size, and revenue.
Nontraditional filters are sometimes also applied to account lists based on strategic business decisions. Perhaps an organization's business goals are to expand to a new geography or to larger enterprises, so those accounts are added to the list.
The common connection between these accounts is that a company wants to sell to them. But do they want to buy from you? Enter: intent.
The Missing Piece: Intent
Using intent data as the foundation to curate your target account list allows you to put your solution in front of organizations who are actively looking for it. Intent expands the landscape of your total addressable market to include accounts that are exhibiting purchasing behavior.
This isn't to say you should ditch your old target account list completely. Rather, start by looking at all possible accounts through the lens of intent to see what additional industries, company sizes, etc. you should be including.
To effectively identify accounts with intent, you first need to curate a list of intent topics. This shouldn't be a buffet of every possible search term. If you're including a topic, it should be strong enough to stand on its own as a predictive indicator of researching intent. From this list, you can determine accounts that are actively searching for these topics.
Intent In Action: Amplifying Account Reach
To illustrate the value of starting with intent data to build a target account list, let's look at this example from a BlueWhale B2B Technology customer.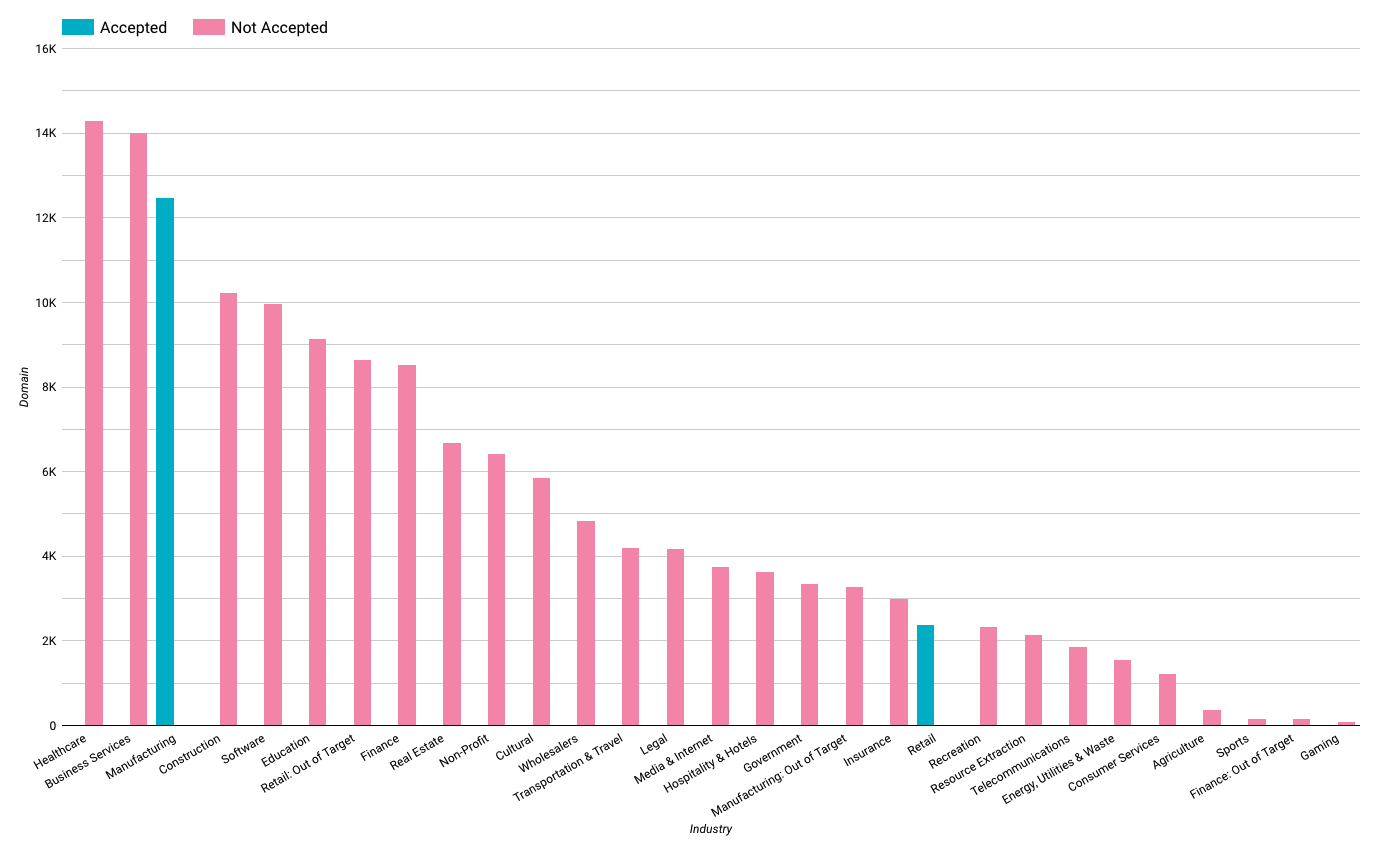 Industry Search Analysis Report Based on Intent Topic List
This customer's intent topic list included about 30 topics centered around supply chain, demand, and inventory management. Their target account list initially focused on companies within manufacturing and retail industries, as shown by the "accepted" industries in blue.
After analyzing the industries that were exhibiting intent based on their research of those topics, we identified several opportunities for expanding the target account list. This customer was notably missing the opportunity to penetrate healthcare, business services, and construction industries (among others) with their software solution.
While their solution was initially designed with manufacturing and retail in mind, it's clear that other industries have a need for inventory and supply chain management systems. Intent data allows us to identify those accounts that are actively researching these topics and are showing purchasing intent.
Similarly, intent data can also be applied to analyze additional accounts based on company size and revenue that fall outside the traditional target account list. Intent data paints a broader view of the market to understand who could be interested in your solution and whether they should be included in your targeting.
Crafting An Intentional Target Account List
Without starting with intent, how do you know what accounts you're leaving off the table? Intent data should frame your analysis of the total addressable market for your solution. Using intent data to create your target account list allows for strategic optimization of your ABM strategy and gets your solution in front of the accounts who want to buy from you now.
Share This Post